Amagi Powers Linear Channel Creation With CLOUDPORTXpress on AWS Marketplace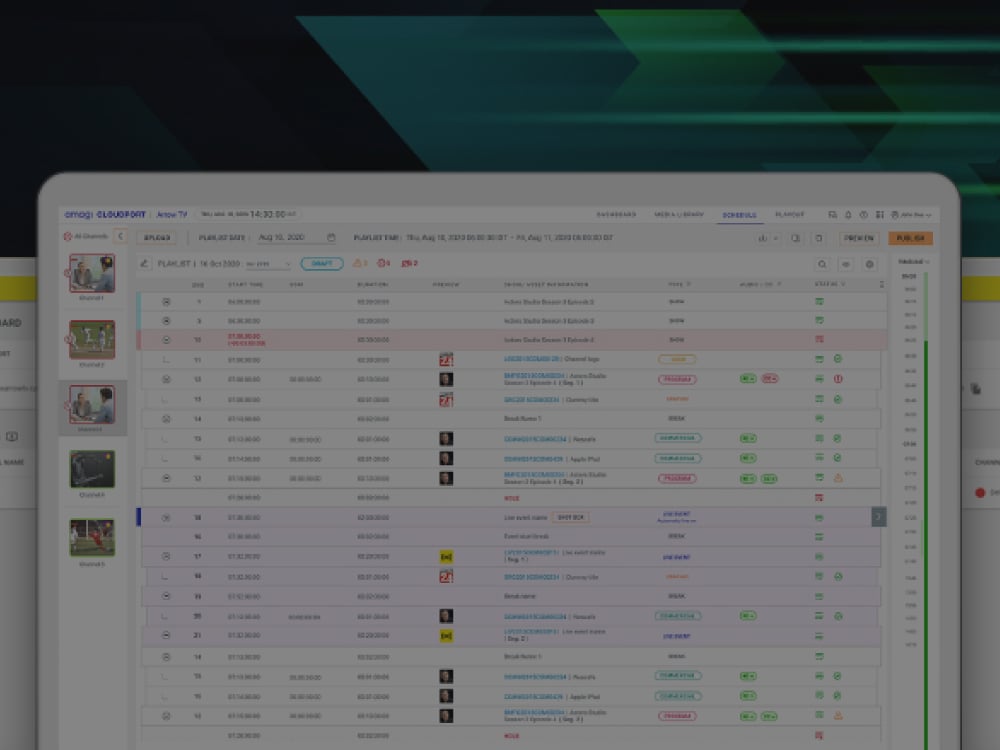 Amagi, a global leader in cloud-based SaaS technology for broadcast and streaming TV, today announced the launch of Amagi CLOUDPORTXpress, a self-service cloud playout platform to create 24x7 linear OTT channels. CLOUDPORTXpress is ideal for new-age content owners who are looking to create 24x7 linear channels and distribute them to streaming TV and Free Ad Supported TV (FAST) platforms. At launch, users can subscribe to CLOUDPORTXpress on AWS Marketplace, a curated digital catalog with thousands of software listings from independent software vendors that make it easy to find, test, buy, and deploy software that runs on Amazon Web Services (AWS).
"The streaming TV market has witnessed a blistering growth in the last 18 months, and continues to accelerate. Globally, many streaming TV platforms have come up providing audiences with flexible content viewing options, while attracting advertisers to shift their budgets to Connected TV," said Srinivasan KA, co-founder at Amagi. "This growth has encouraged content owners and studios to monetize their content library through linear channel creation and distribution. We see a huge opportunity to reaffirm our technology leadership in this segment by simplifying and accelerating cloud adoption".
By subscribing to Amagi CLOUDPORTXpress, content owners can upload their video library to AWS Cloud, create programming schedules, add graphics and create a 24x7 linear channel anywhere – all through a simple web browser. The channel feed can then be further distributed to OTT platforms as per distribution arrangements, for example to FAST TV, Owned and Operated (O&O) apps, and virtual Multichannel Video Programming Distribution (vMVPD) platforms.
"CLOUDPORTXpress gives unmatched flexibility and control for content owners to spin up new channels, test audience preferences, expand their distribution footprint, and pace their growth as per demand. It helps content owners to optimize resources – financial, infrastructure, and personnel, and offers a cost-effective path to reach new audiences," added Srinivasan.
Customers can benefit from Amagi's deep technical integration with leading FAST TV platforms such as Samsung TV Plus, Pluto TV, Xumo, The Roku Channel, Plex, STIRR, Tivo, Redbox, Sling and VIZIO among others. Using its award-winning flagship platform, CLOUDPORT, Amagi delivered over 200 streaming channels to nearly 1000 distribution end points across more than 30 platforms last year. CLOUDPORTXpress draws its versatility and simplicity from Amagi's rich experience and technology leadership in cloud and OTT.
Overall, Amagi manages more than 400 channels, with deliveries in more than 40 countries. The company has a state-of-the-art cloud broadcast operations center that can support over 1000 live linear channels. Amagi clients include A+E Networks UK, beIN Sports, CuriosityStream, Discovery Networks, Fox Networks, IMG, MGM, NBCUniversal, People TV, SportsGrid, Tastemade, Tegna, VENN, Vice Media, and Warner Media, among others. For more information about Amagi and its cloud broadcast solutions, visit www.amagi.com.
About Amagi
Amagi is a next-generation media technology company that provides cloud broadcast and targeted advertising solutions to broadcast TV and streaming TV platforms. Amagi enables content owners to launch, distribute and monetize live linear channels on Free-Ad-Supported TV and video services platforms. Amagi also offers 24x7 cloud managed services bringing simplicity, advanced automation, and transparency to the entire broadcast operations. Overall, Amagi supports 400+ channels on its platform for linear channel creation, distribution and monetization with deployments in over 40 countries. Amagi has offices in New York, Los Angeles, and London, broadcast operations in New Delhi, and an innovation center in Bangalore.
Amagi Contact:
Sanjay Kirimanjeshwar
Head of Global Marketing
Email: sanjay@amagi.com
Katie Cessna
BLASTmedia for Amagi
katie@blastmedia.com
317-806-1900 x 142
India PR Contact:
Gayatri Binu
The PRactice
Email: gayatri@the-practice.net