Amagi to showcase integration with Singular.live at the 2022 NAB Show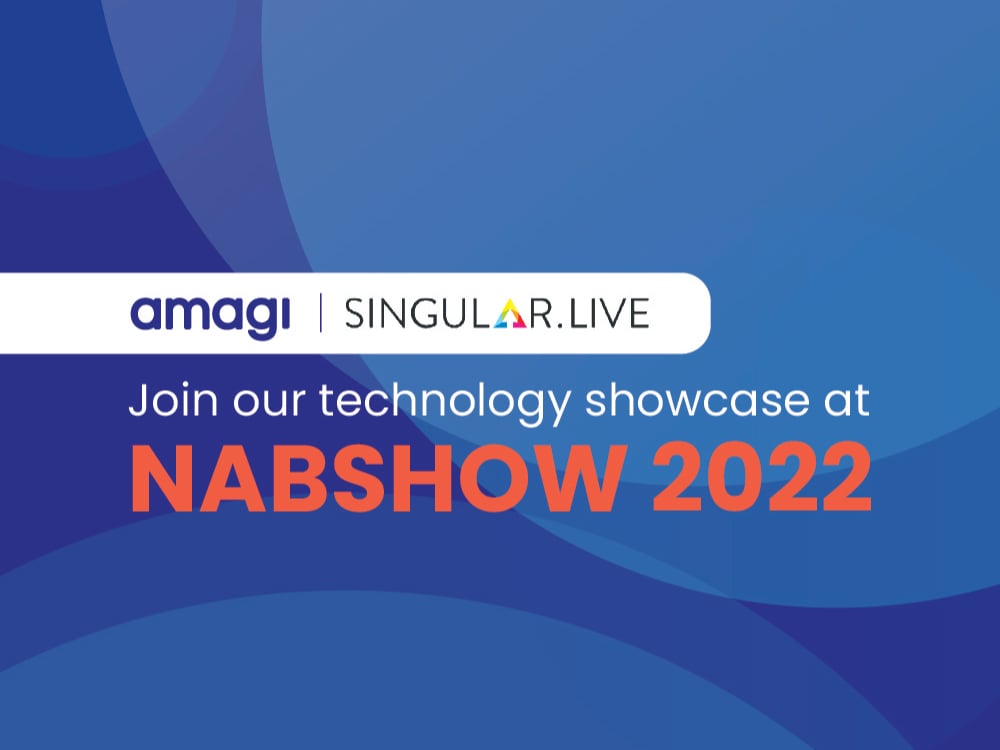 Trailblazing media SaaS technology companies partner to demonstrate world-class live sports and news production solutions on April 24
Amagi, a global leader in cloud-based SaaS technology for broadcast and connected TV, today announced it will host a joint demonstration at the 2022 NAB Show with its partner, Singular.live, the multi-award-winning leader in cloud-native graphics, showcasing the next-generation capabilities of their integrated cloud-based workflow for live news and sports production.
Join the Amagi and Singular teams on April 24 at booth W4706 to learn how adding Singular.live to Amagi CLOUDPORT and/or Amagi LIVE enables next-level cloud production techniques to be seamlessly available to Master Control Operators located anywhere. This integration dramatically reduces costs associated with lighting up an on-prem control room and 'Going Live' for breaking news; adding gamification and audience participation elements to FAST channels of all genres; boosting sponsorship revenue with more agile creative possibilities; and executing next-gen localization or regionalization use cases.
"Amagi has long been a leader in executing advanced, broadcast-grade graphics workflows, including sophisticated digital video effects and data-driven tickers," said KA Srinivasan, co-founder, Amagi. "The industry is in the midst of a quiet revolution in the adoption of digital overlays and HTML5 graphics, and Amagi is once again at the forefront of innovation. From weather localization to sports gamification, we are excited to deepen our relationship with Singular.live, a true pioneer in cloud graphics."
On localization, with the Singular.Live API, it is possible to deliver two different localization workflows including (a) an upstream 'burn-in' workflow using encoding as well as (b) a downstream, device-centric workflow that delivers the assets at the device layer via a player SDK without encoding.
The demo at NABSHOW offer insights from recent use cases in live sports, simulated-live events, localization, and 24/7 breaking news. In addition, attendees will get a unique look at advanced platform features, such as the use of WebM video clips within Singular.Live.
Both partners will also be on hand to discuss their future integration plans as Amagi and Singular continue to redefine what's possible in content creation and distribution through their collaboration.
What: NAB Show
When: Sunday, April 24, 2022, 3-5pm PT
Where: Las Vegas Convention Center, West Hall, Booth W4706
For more information on NAB Show, including a full schedule of events, visit https://nabshow.com/2022/.
About Singular.live
Singular's multi-award-winning platform is the global leader in cloud-native graphics. With a SaaS model and no requirement for dedicated graphics hardware, Singular offers fully customizable, broadcast-quality graphics and next-gen features that include adaptive, personalized, and interactive overlays for both live and on-demand content. Trusted by the largest media and entertainment brands in the world, Singular is also the only live graphics platform accredited for Sustainability, helping broadcasters and content creators reduce their environmental impact.
About Amagi
Amagi is a next-generation media technology company that provides cloud broadcast and targeted advertising solutions to broadcast TV and streaming TV platforms. Amagi enables content owners to launch, distribute and monetize live linear channels on Free Ad-supported Streaming TV and video services platforms. Amagi also offers 24x7 cloud-managed services bringing simplicity, advanced automation, and transparency to the entire broadcast operations. Overall, Amagi supports 650+ content brands, 800+ playout chains, and over 2000 channel deliveries on its platform in over 40 countries. Amagi has a presence in New York, Los Angeles, Toronto, London, Paris, Singapore, broadcast operations in New Delhi, and an innovation center in Bangalore.
Amagi Contact:
Sanjay Kirimanjeshwar
Head of Global Marketing
Email: sanjay@amagi.com
BOCA Communications for Amagi
amagi@bocacommunications.com