Brat TV Chooses Amagi to Expand its Streaming TV Footprint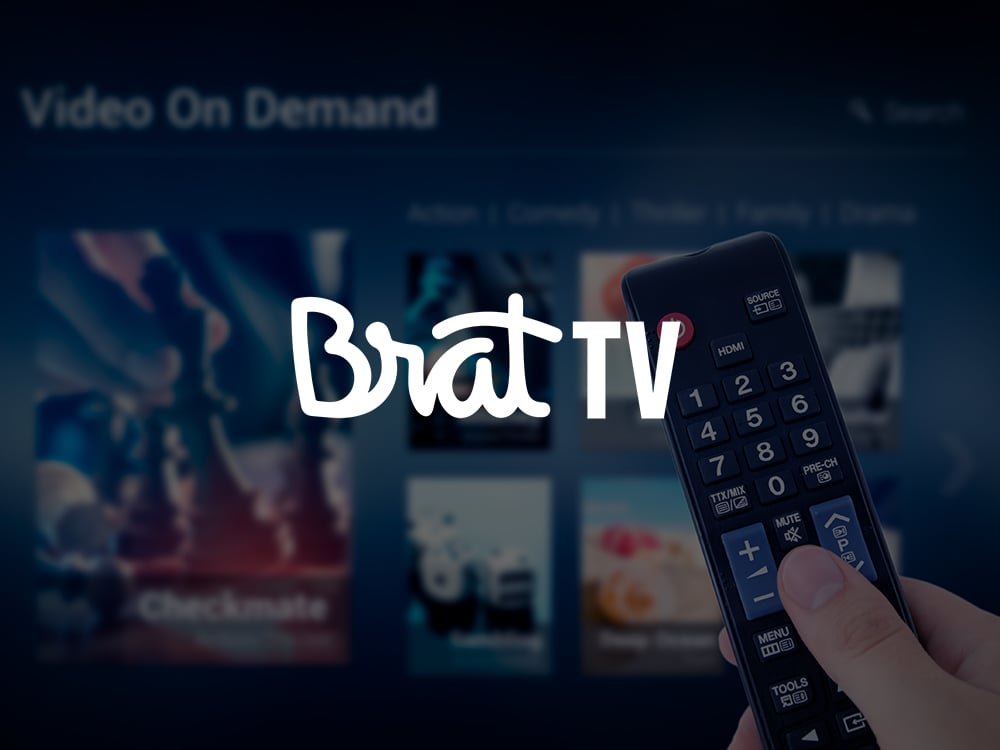 Amagi, a global leader in cloud-based technology for broadcast TV and streaming TV, today announced that it has enabled LA-based digital media network Brat TV to distribute its content to leading streaming TV platforms – including The Roku Channel, Samsung TV Plus, and VIZIO. The network's original content, catering to a Gen Z audience, was initially exhibited on YouTube. This engagement with Amagi will help Brat TV to expand its reach to 200+ million viewers on ad-supported streaming TV.
"With nearly 20 million viewers tuning in on YouTube this quarter, it was high time to branch out to new television partners," said Rob Fishman, a co-founder of Brat TV. "Through its business and technology leadership in distributing streaming TV content, Amagi allows us to reach millions of households, both in the United States and abroad."
Amagi has built deep technical integration with leading streaming TV platforms. This has simplified distribution workflows making it easier for content owners such as Brat TV to launch linear channels. Aided with Amagi's Dynamic Ad Insertion solution that comes with comprehensive analytics and reporting features, Brat TV gets full visibility on its ad impressions and associated viewership to drive content and monetization strategies.
"Across the globe, we're seeing Free Ad Supported TV (FAST) rapidly gaining momentum," said Srinivasan KA, co-founder, Amagi. "Brat TV is already a popular content brand for Gen Z viewers on YouTube. Linearizing such content on streaming TV presents a tremendous opportunity for Brat TV. We are proud to partner with them in their next phase of growth."
Overall, Amagi manages 350+ channels, with deliveries in more than 40 countries. Amagi clients include CuriosityStream, Discovery, Fox Networks, MGM, NBCUniversal, PeopleTV, Tastemade, Vice TV, Tegna, and Warner Media, among others.
Brat TV produces hit shows like "Chicken Girls," "Total Eclipse" and its latest production, "Attaway General," starring TikTok sensation Dixie D'Amelio. The company has raised $42.5 million from media and technology investors.
About Amagi (www.amagi.com) Amagi is a next-gen media tech company that provides cloud broadcast and streaming TV solutions to TV networks, content owners and streaming TV platforms. Amagi enables content owners to launch, distribute and monetize live linear channels on Free-Ad-Supported TV and SVOD platforms. Amagi also offers 24x7 cloud managed services bringing simplicity, advanced automation, and transparency to the entire broadcast operations for traditional TV networks. Amagi delivers 350+ channels with deployments in over 40 countries. Amagi has offices in New York, Los Angeles, and London, broadcast operations in New Delhi, and an innovation center in Bangalore.
Amagi Contact:
Sanjay Kirimanjeshwar
Head of Global Marketing
sanjay@amagi.com
Katie Cessna
BLASTmedia for Amagi
katie@blastmedia.com
**About Brat TV (brat.tv) ** Brat TV produces original series for Gen Z audiences. Launched in 2017, the company reaches more than 20 million viewers on YouTube and third-party platforms like Roku, Samsung and Amazon. In 2019, Brat TV signed a deal with MGM to produce film and television projects. To date, the company has raised $42.5 million from media and technology investors.
Brat TV Contact:
Dru Radovich
Director of Operations
dru@brat.com