New York, September 12, 2022
Experience the limitless possibilities of TV and OTT at the Amagi FAST Conference 2022 in Los Angeles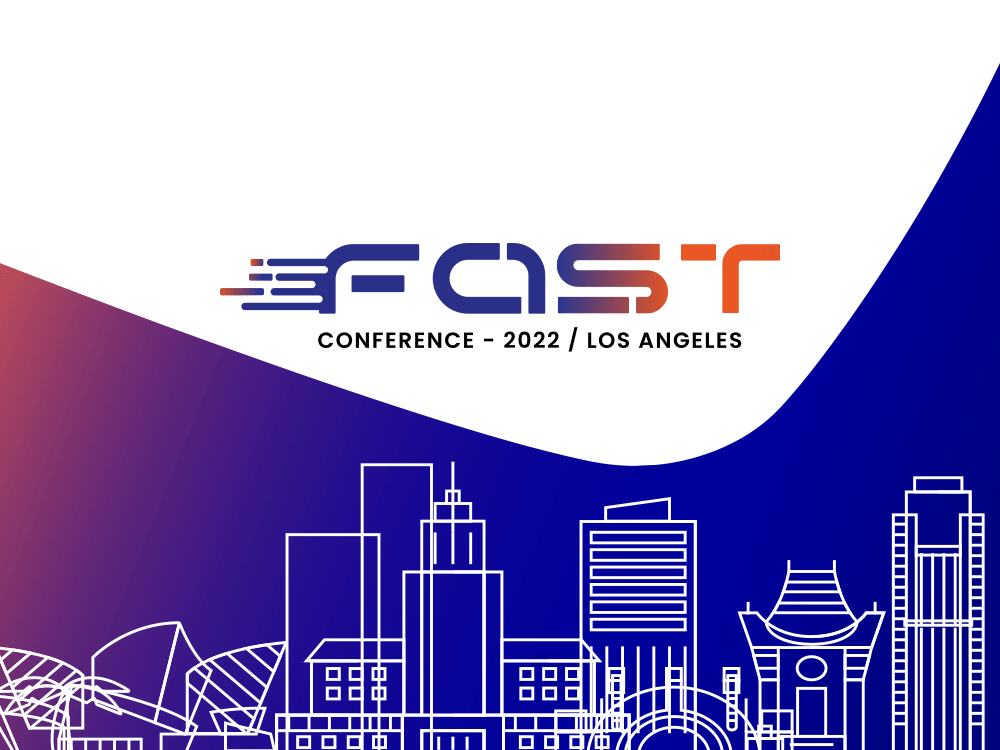 Amagi, the global leader in cloud-based SaaS technology for broadcast and connected TV, today announced the first ever Amagi FAST Conference in Los Angeles, bringing together leading content and platform brands, industry veterans and seasoned experts to share their journeys and best practices on September 20, 2022.
FAST (Free Ad-supported Streaming Television) is rapidly becoming the streaming model that audiences and advertisers are moving to. It is now synonymous with reach and revenues becoming the opportunity that is redefining the industry. As the recognized leader in FAST, Amagi has stepped in to gather the FAST community to discuss trends and strategies at a full day event that will bring practical insights to all attendees.
"At Amagi, we've worked with broadcasters, content owners and advertisers to create, distribute and monetize content that reaches audiences regionally and around the globe. Now, as the recognized leader in FAST, we are proud to bring together an exceptional lineup of speakers and industry-leading organizations to our FAST Conference in Los Angeles," said Srinivasan KA, Co-founder, Amagi. "At the event, panelists and presenters will share their journeys and best practices while attendees build the connections they need to succeed in the FAST market. We look forward to meeting with our customers, partners and industry colleagues as we explore the tremendous opportunities of FAST, together."
Engage with experts on how to build a successful FAST business at the Amagi FAST Conference 2022. Designed as a boot camp for all who are interested in Free Ad-Supported Streaming TV, the Amagi FAST conference will have industry experts share their success stories and insights on setting up and growing a FAST business — from how to get funding, best practices in channel creation, tips for capitalizing on industry trends, and strategies to unlock advertising, distribution and monetization opportunities in this new market.
What can you learn at this event? Key panel sessions include:
Financing for FAST and FAST economics

Building a successful FAST business - hear from the experts

Best practices in content acquisition and programming for FAST

Reaching the right audience

Monetizing FAST - hear from advertisers and agencies

Getting the FAST tech stack right
Confirmed speakers include:
Chris Knight, President & CEO, Gusto Worldwide Media

Daniel Levin, CEO & Founding Partner, Narrative Capital

Dave Zilberman, General Partner, Norwest Venture Partners

David Buchan, Executive Vice President, Fremantle US

Eric Berger, CEO, Co-Founder, Board of Directors, Common Sense Networks

Erick Opeka, Chief Strategy Officer (CSO), Cinedigm

Gene Pao, EVP, Strategy and Digital, Shout! Factory

Jeremy Strauss, Global Head of Business Development, Tastemade

Jim Borg, Senior Director, Product Engineering, Cox Media Group

Joshua Stinehour, Principal Analyst, Devoncroft Partners

Julio Sobral, SVP, Channel Distribution, Blue Ant Media US and LatAm

Katherine Pond, Group Vice President, VIZIO

Larry Fitzgibbon, co-founder and CEO, Tastemade

Laura Florence, Vice President, Redbox Automated Retail, LLC

Laura Martin, Managing Director, Senior Internet & Media Analyst, Needham & Company

Nicole Saewert Whitesel, EVP, Advanced TV - Client Success, Publicis Media

Philippe Guelton, Chief Revenue Officer (CRO), Chicken Soup for the Soul Entertainment (Crackle Plus, Redbox)

René Santaella, Chief Digital & Streaming Officer, Estrella Media, Inc.

Richard Hull, Senior Advisor & Equity Portfolio Leader, TelevisaUnivision

Stuart McLean, CEO, FAST Studios

Tony Huidor, Chief Technology & Product Officer, Cinedigm

Will Rosser, Senior Vice President, Distribution Marketing, Game Show Network (GSN)
Date: Tuesday, September 20, 2022
Time: 7:30am (includes breakfast) to 5pm PT
Venue: W Hotel | Hollywood
Register now to join the event.
Amagi provides a full suite of solutions for channel creation, distribution and monetization. Amagi clients include ABS-CBN, A+E Networks UK, beIN Sports, Curiosity Stream, Cinedigm, Warner Bros. Discovery, Fox Networks, Fremantle, Gannett, Gusto TV, NBCUniversal, Tastemade, Tegna, and Vice Media among others. The increase in demand for connected TV devices and the Free Ad-supported TV (FAST) viewing experience in 2022 has increased Amagi's adoption by companies such as Cox Media Group and Banjiay Rights this year.
For more information about Amagi and its streaming TV solutions, visit www.amagi.com.
About Amagi
Amagi is a next-generation media technology company that provides cloud broadcast and targeted advertising solutions to broadcast TV and streaming TV platforms. Amagi enables content owners to launch, distribute and monetize live linear channels on Free Ad-supported Streaming TV and video services platforms. Amagi also offers 24x7 cloud-managed services bringing simplicity, advanced automation, and transparency to the entire broadcast operations. Overall, Amagi supports 700+ content brands, 800+ playout chains, and over 2100 channel deliveries on its platform in over 40 countries. Amagi has a presence in New York, Los Angeles, Toronto, London, Paris, Melbourne, Seoul, Singapore, and broadcast operations in New Delhi, and an innovation center in Bangalore.
Contact:
BOCA Communications for Amagi
amagi@bocacommunications.com
Amagi Contact:
Sanjay Kirimanjeshwar
Vice President - Corporate Marketing
Email: sanjay@amagi.com
Europe PR Contact:
AxiCom PR
Email: AmagiPR.UK@axicom.com