New York, November 3, 2022
Vevo Partners with Amagi to Support Its Global CTV Expansion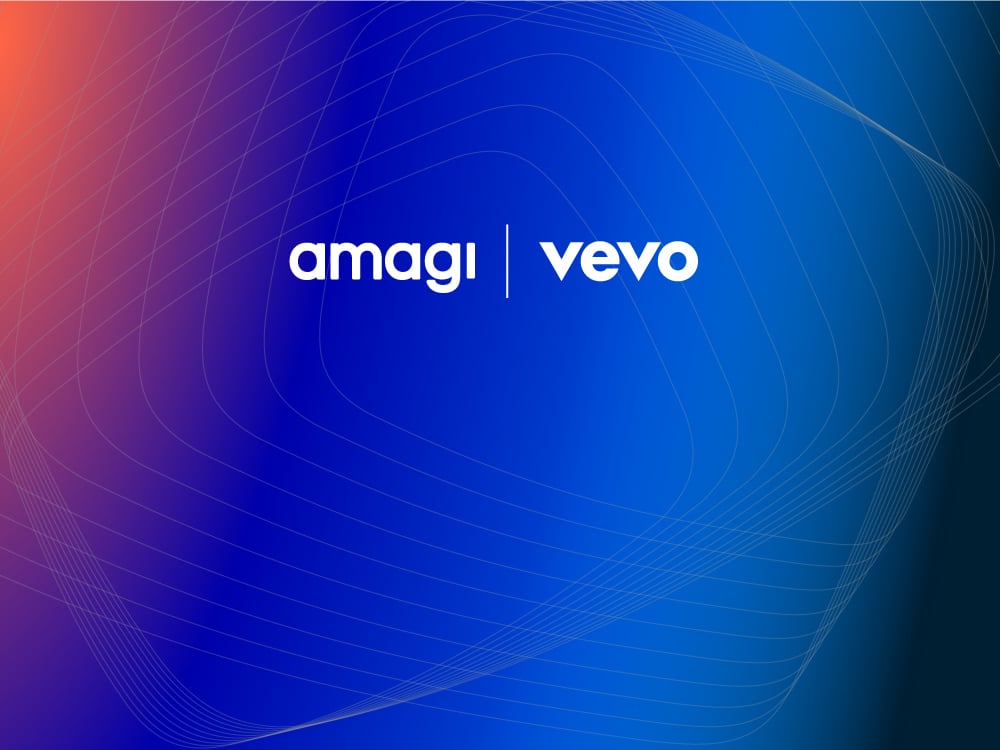 Cloud-based infrastructure helps Vevo scale and monetize efficiently across the burgeoning FAST landscape worldwide

Vevo, the world's leading music video network, today announced enhancements to its global connected TV (CTV) programming and advertising infrastructure by partnering with Amagi, the global leader in cloud-based SaaS technology for broadcast and connected TV.

"As Vevo expands and monetizes on CTV worldwide, we are extending our capabilities correspondingly in order to work with more distributor and advertising partners, especially those in the rapidly growing FAST space," said Natalie Gabathuler-Scully, senior vice president, global revenue and distribution operations, Vevo. "Amagi's cloud-based infrastructure enhances our ubiquity and bolsters our flexibility as we navigate growth, and helps us meet global CTV content delivery and ad tech requirements to ensure we maximize our revenue potential."

Globally, Vevo now has more than 80 linear FAST (Free Ad Supported Streaming TV) channels via more than 30 distribution partners. Amagi will ensure quality streaming of Vevo linear channels across CTV platforms, and enable the seamless delivery of video ads into Vevo channels across distributors. In addition to providing a programming and ad serving infrastructure, Amagi will provide analytics to bolster Vevo's performance reporting.

"We are proud to manage the delivery of programming and ads flowing through Vevo's rapidly growing global CTV footprint," said Srinivasan KA, co-founder, Amagi. "As their technology partner, Amagi offers Vevo the ability to quickly and cost-effectively create, distribute and monetize content with best-of-breed cloud-based solutions. We look forward to continuing to amplify Vevo's reach across platforms and geographies as the company scales to new heights of global growth."

About Amagi
Amagi is a next-generation media technology company that provides cloud broadcast and targeted advertising solutions to broadcast TV and streaming TV platforms. Amagi enables content owners to launch, distribute and monetize live linear channels on Free Ad-supported Streaming TV and video services platforms. Amagi also offers 24x7 cloud-managed services bringing simplicity, advanced automation, and transparency to the entire broadcast operations. Overall, Amagi supports 700+ content brands, 800+ playout chains, and over 2100 channel deliveries on its platform in over 40 countries. Amagi has a presence in New York, Los Angeles, Toronto, London, Paris, Melbourne, Seoul, Singapore, and broadcast operations in New Delhi, and an innovation center in Bangalore.

About Vevo
Vevo is the world's leading music video network, connecting an ever-growing global audience to high quality music video content for more than a decade. Founded by Universal Music Group and Sony Music Entertainment in 2009, Vevo offers fans worldwide a vast array of premium content to choose from, showcasing official music videos alongside a constantly developing lineup of live performances and innovative original programming. From top superstars to rising new talents, Vevo brings incomparable cross-promotional support to artists across the musical spectrum, at every stage of their careers.

Vevo has consistently evolved over the past decade to lead within today's ever-changing media landscape, embracing partnerships with a number of leading distribution platforms to deliver extraordinary content within ad-supported environments. With more than 25B views across television, desktop and mobile devices each month, Vevo brings music videos to the world – when, where, and how fans want them.

Vevo is available on YouTube, Samsung, Samsung TV Plus, Amazon Fire TV, Amazon Echo Show, PlutoTV, Apple TV, Roku, Comcast (Xfinity X1 and Xfinity Flex), VIZIO, Sky (NowTV and SkyQ), Foxxum, XITE, NetRange, Redbox, T-Mobile Play, Virgin Media, Xumo, Telstra, Foxtel, Fetch, Rogers, Shaw, Local Now, Google TV, Android TV, Cox, ViX and Vewd.